This Friday sees the release of Mario Power Tennis, which lets you take to the court as your favourite characters from the red plumber's world.
Being a Wii update of an old GameCube favourite, the title allows you to use the Wii Remote to play strokes – much like in Wii Sports Tennis – and to unleash the Power Shots (which are different for each character) that you'll need to master in order to win.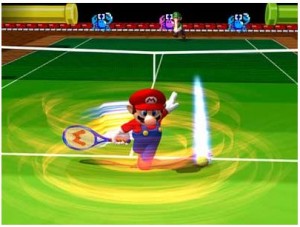 This is no realistic sports game like Virtua Tennis though. While it does have regular tennis courts it also features gimmick courts – in the Luigi's Mansion one, for example, you'll encounter ghosts which trip you up using banana peels.
As well as a standard tournament mode, the title offers a series of tennis-themed mini-games including 'Artist on the Court', which sees you hitting paintballs to make a picture.
Mario Power Tennis is also playable in split screen with a friend and features multiple control types that vary in difficulty, allowing players of all experience levels to get in on the action.
[asa]B001O1QLDO[/asa]