Everyone's favourite blue hedgehog is making a welcome return to the Wii on Friday with the release of Sonic And The Black Knight.
The new Wii-exclusive adventure takes players into the world of Arthurian legend and offers Sonic the chance to become a knight.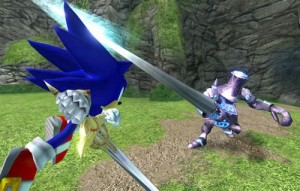 Arming you with Sonic's traditional speed and a sword to slay beasts like dragons, this fast-paced adventure will play out across a range of medieval-inspired locations including castles and underground caverns.
The game's looking like it's going to be every bit as enjoyable as its predecessor, 2007's Sonic And The Secret Rings. You can pre-order it now by clicking on the Amazon link below.
[asa]B001DIXDUM[/asa]