Nintendo's ever-popular Wii Fit has topped the Wii chart yet again, while placing third in the overall all formats rankings.
Mario Kart Wii held onto second place despite competition from the newly released Mario Power Tennis, which debuted in third.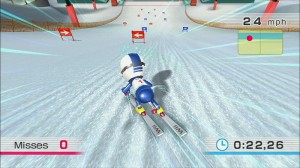 Mario & Sonic At The Olympic Games in fourth marked the little red plumber's third appearance in the top ten, as zombie shooter The House Of The Dead: Overkill dropped two places to fifth.
Click through for the full top ten…
Wii Full Price Chart For The Week Ended March 7th
(Last week's chart position appears in brackets)
1. (1) Wii Fit (Nintendo)
2. (2) Mario Kart Wii (Nintendo)
3. (*) Mario Power Tennis (Nintendo)
4. (4) Mario & Sonic At The Olympic Games (Sega)
5. (3) The House Of The Dead: Overkill (Sega)
6. (5) Ben 10: Alien Force (D3P)
7. (8) Family Ski & Snowboard (Namco Bandai)
8. (10) Winter Sports 2009: The Next Challenge (Koch Media)
9. (6) Animal Crossing: Let's Go To The City (Nintendo)
10. (7) Guitar Hero: World Tour (Activision)
Source: Chart Track