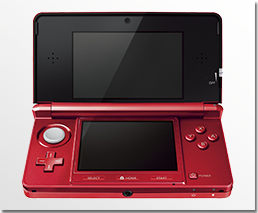 NINTENDO 3DS METALLIC RED HANDHELD CONSOLE
---
---
Included in the Nintendo 3DS box:
• Metallic Red Nintendo 3DS system
• Nintendo 3DS charging cradle
• Nintendo 3DS AC adapter
• Nintendo 3DS stylus
• SD Memory Card (2GB)
• AR Card(s) (view the cards using the outer cameras to play supported AR games)
• Quick-Start Guide
• Operations Manual (including warranty)
I bought this as a birthday present for my wife. She absolutely loves it. So much so that I'm now feeling like a neglected husband! She loves the functionality, especially the wi-fi connection, but overall she thinks it's a superb bit of kit. We both love the colour (wish I had a laptop that shade!). schubert960
Click here for more reviews on Metallic Red 3DS
Amazon
.