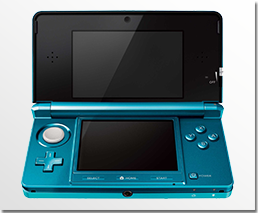 NINTENDO 3DS AQUA BLUE HANDHELD CONSOLE
---
---
Included in the Nintendo 3DS box:
• Aqua Blue Nintendo 3DS system
• Nintendo 3DS charging cradle
• Nintendo 3DS AC adapter
• Nintendo 3DS stylus
• SD Memory Card (2GB)
• AR Card(s) (view the cards using the outer cameras to play supported AR games)
• Quick-Start Guide
• Operations Manual (including warranty)
I bought the 3DS and expected quite a lot. The only bad thing I had expected was the 3D effect because it might hurt your eyes after about 15 minutes. But when I started playing it. WOW!!! It was nothing I had imagined…. The 3D effect is absolutely amazing. It comes out at you and makes it almost lifelike. reheela
Click here for more Aqua Blue 3DS reviews on
Amazon
.