A game based on ABC's smash television drama series Grey's Anatomy hit stores today.
Grey's Anatomy: The Video Game allows you to play as your favourite doctors of Seattle Grace Hospital (the show's setting), operating on patients and making the tough decisions they face each day. It's not all life and death stuff though, as there's room for some romance in the story too.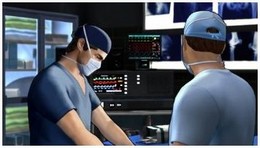 "The doctors of Seattle Grace Hospital deal with life-or-death consequences on a daily basis – it's in one another that they find comfort, friendship and, at times, more than friendship. Together they're discovering that neither medicine nor relationships can be defined in black and white. Real life only comes in shades of grey," says publisher Ubisoft.
"As each doctor, players will make important personal and professional decisions, explore the direct relationships with each other, and perform the delicate surgeries the series is known for, all through fun and engaging game play."
We think the Wii Remote's perfect for surgery-based titles, and personally can't wait for a game inspired by our favourite medical series to release on Wii. No, not Casualty, we're talking about ER.
[asa]B001PIIBFM[/asa]